TopsyTurny® Spinner
The TopsyTurny® Spinner provides a fun way for kids to gain the valuable spinning motion they need for healthy growth and development. It also accommodates a large number of kids on the platform, between cables, and on the ground so that friends can play together. Spinning fast or casually rotating, the TopsyTurny Spinner is a great freestanding addition to your playground.
Playground products shown in video may not be appropriate for every age group. Playsystems shown in video are for demonstration purposes only. Product configurations may vary.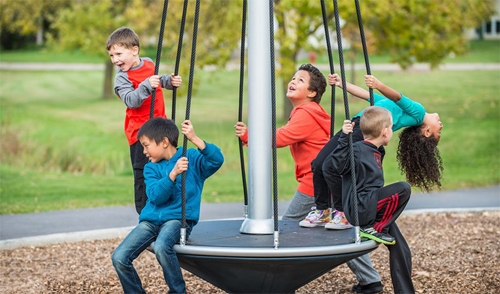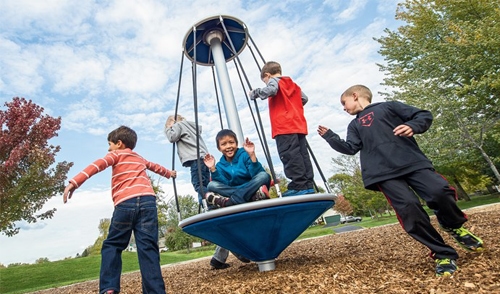 Age Ranges: 5-12 Years
Features

• Large, black GripX-textured deck accommodates multiple kids and offers excellent traction and slip-resistance
• Eight polyester-wrapped, steel-reinforced cables provide sufficient handholds; available in red or black
• Spinner base and top made from durable, UV-stable rotomolded polyethylene in your choice of color
• Center post available in any ProShield® color
• Direct bury only
Developmental Benefits
Sensory: Vestibular +, Proprioception
Motor Skills: Balance, Core Body Strength, Upper Body Strength
Cognitive Skills: Problem Solving
Social/Emotional Skills: Cooperation, Social Skill Development, Imaginative Play
Interested in learning more about the TopsyTurny® Spinner? Read more here!
Click here to request more information on the TopsyTurny® Spinner.