Park, Playground & Outdoor Architectural Furnishings
Serving North Carolina and South Carolina
I can fly with Landscape Structures ZipKrooz™
I can fly with ZipKrooz™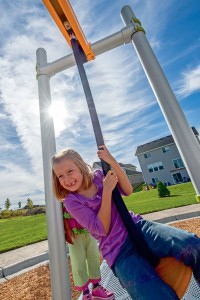 Zip lines have become the fastest growing recreational sport in the world. Now ZipKrooz™ brings the adventure to the playground in an exciting, safe way. Unlike other playground zip lines, ZipKrooz is an ultra-smooth two-way ride, eliminating the need to walk the seat back to the start.
Built in elevation helps riders gain momentum at the beginning, then slow down at the end. With its unique 4-wheel trolley system and comfortable seats, ZipKrooz™ is engineered for exceptional quality, comfort and safety.
ZipKrooz™ Assisted is the only playground zip line that offers the thrilling feel of flying to all kids. The rotationally molded bucket seat with a lock-in-place harness provides stability and security for kids with limited upper or lower body strength.
 ZipKrooz Features:
2-way ride
Easy glide trolley
Built-in elevation; can be installed on level ground
Track available in 3 lengths: 34′, 50′ and 66′
For ages 5 – 12
Meets CSA standards
Interested in learning more about the ZipKrooz™? Read more here!
Click here to learn how you can bring flight to your park with ZipKrooz.