FORMA™ - THE CONTEMPORARY NEW ANYWHERE PLAYSYSTEM! Age Ranges: 2 to 12 Years Forma brings a contemporary vibe to any play environment. With its architectural influences and endless‌ color possibilities, create the perfect complement to your play setting, whether you're looking for a‌ nature-inspired style or something more modern. Kids will love the dynamic, challenging, and inclusive play‌ opportunities provided by Forma's clean, angular design and sensory-rich mix of materials.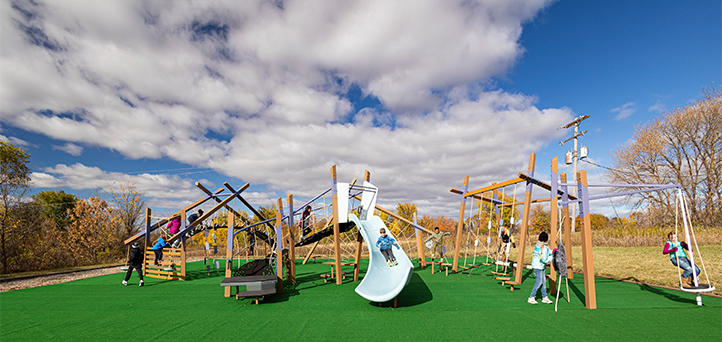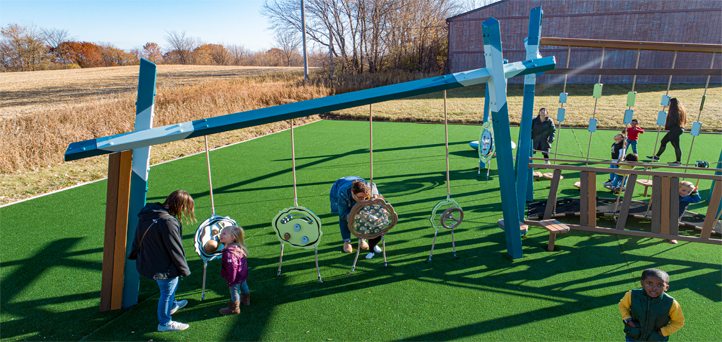 FOCAL™ SENSORY WALL - MANY ACTIVITIES TO EXPLORE! Age Ranges: 2 to 5 and 5 to 12 Years The Focal Sensory Wall has many activities to explore! Panels have play on both sides and opportunities for see-through interaction as well. With easy walk-up or roll-up access, everyone can participate in the fun.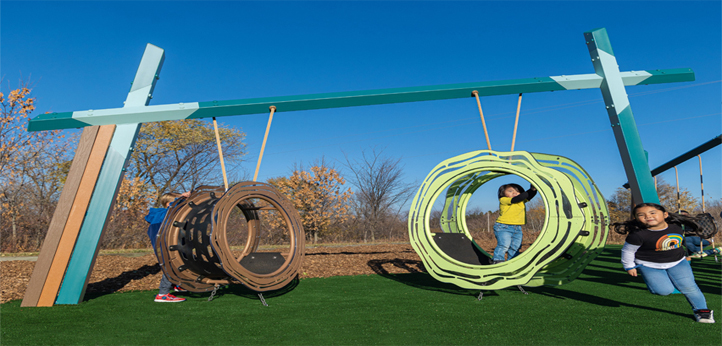 FOX DEN™ HANGOUTS - A QUIET RETREAT! Age Ranges: 2 to 5 and 5 to 12 Years The Fox Den Hangouts offer kids a place to escape the hustle and bustle of a busy playground with comfortable seats in two sizes. Belting cutouts, open sides, and angled positions allow for either solo time or interaction with others. The gentle rocking motion is comforting, and the variety of materials provides visual and tactile interest.
Gregory's Playground at the Hilton Head Island Recreation Association was a playground that was designed as a basic playground when the planning process started after visiting The Landscape Structure headquarters in Minnesota we were blown away at what they could design, build and install. The initial plans were scraped and a new custom designed fully accessible playground was imagined. Once the design process was completed the fundraising for the state of the art playground started. Without the help of Landscape Structure and Carolina Parks and Play staff this project would not have ever gotten off of the ground and the fundraising would have faltered. With their help and expertise in the grants and fundraising opportunities we were able to build a one of a kind playground that all families can enjoy at the Hilton Head Island Recreation Center in conjunction with the Hilton Head Kiwanis Clubs and The Children's Relief Fund as well as many other donors and volunteers. Landscape Structure and Carolina Parks and Play were phenomenal to work with throughout the process and put in the time and commitment to show up and help whenever needed. They have helped to ignite the imagination of many children with Gregory's Playground and will continue to do so through the years.
Leah Arnold – Director of Programs & Operations
Island Recreation Association

I thoroughly enjoyed my experience in working with Carolina Parks and Landscape Structures. They took an older park in our city and created something very special for our community. One child described it as "the best park ever!" As we looked at different types of playground equipment, it was apparent the quality of Landscape Structures was by far the best quality on the market. Chris Yang from Carolina Parks & Play was instrumental in designing a play space that was safe, inclusive, and fun. Everyone from the design and installation team were professional, friendly, responsive and did quality work. The end results were both beautiful and magical. We look forward to a long and productive relationship with Carolina Parks and Play and Landscape Structures.
Bobby Beville – Parks and Recreation Director
City of Anderson

Chris (Carolina Parks & Play) is an absolute pleasure to work with. He has proved to the City of Greenville that he provides great products and services. We will continue using him for our playground needs.
Talena Stewart – Parks Manager
City of Greenville Parks and Recreation