The Eclipse® Net Climber is an exclusive Landscape Structures design. With the tensioning system located in the cast-aluminum ball connectors and only four footers required, installation and maintenance is hassle-free! Great addition to any playground.
Age Ranges: 5-12 Years
Features
Optional Aeronet® seats accommodate up to 8 (#174567)
Climbing cables are abrasion resistant, color stable, durable and vandal resistant
Polyester-wrapped, steel-core climbing cables available in red or black
Tensioning system in ball connectors
ProShield®-finished, galvanized steel arches
Direct bury only
Customize the Eclipse Net by selecting from more than 20 components to create designs with geometric cable and limitless play routes as shown in the Eclipse Net Plus Uniquely Landscape Structures campaign.
Sensory
Visual, Vestibular +, Proprioception, Tactile
Motor Skills: Balance, Coordination, Motor Planning, Core Body Strength, Agility, Upper Body Strength, Lower Body Strength, Endurance, Cardiovascular, Flexibility
Cognitive Skills: Problem Solving
Social/Emotional Skills: Cooperation, Social Skill Development, Imaginative Play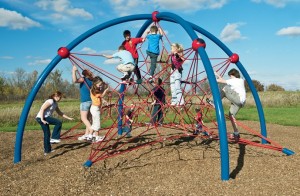 Click here to learn more about the Eclipse Net Climber.
Click here to request more information on the Eclipse Net Climber.