Rescue Ranch held a community ribbon-cutting on Saturday, June 3, 2017 for the "Earnhardt Family Playground." Rescue Ranch is a Non-Profit Animal Welfare Organization founded by Krissie and Ryan Newman. This playground was made possible by a generous donation from the Dale Jr. Foundation.
The new "10,0000 Square Foot" Inclusive Playground at Rescue Ranch has an Animal Theme with a custom Barn and poured in place surfacing with an array of animal footprints which fits perfectly into the Rescue Ranch landscape. This playground will play a part in Rescue Ranch's educational programs to promote respect for animals and responsible pet ownership, as well as agricultural, environmental and wildlife conservation by providing an additional place for all to play including Critter Campers, school groups and more.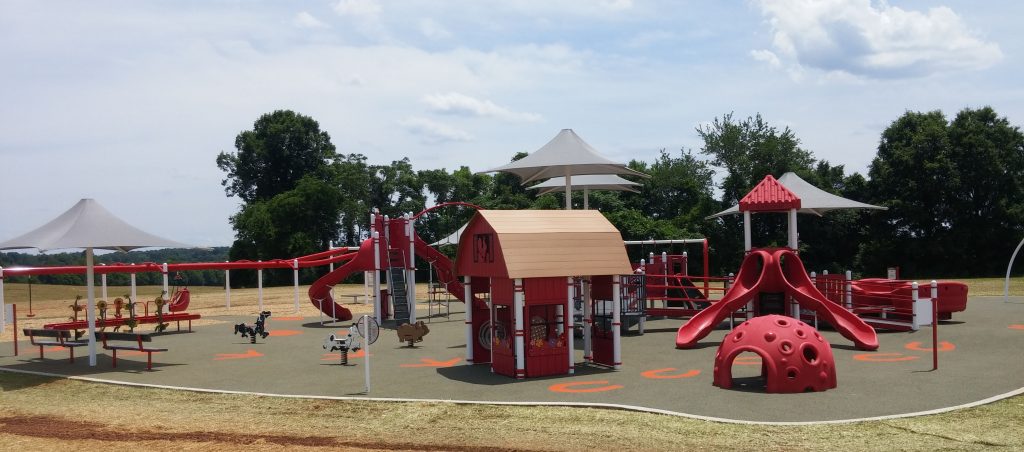 The playground equipment at Rescue Ranch is manufactured by Landscape Structures Inc., the leader in the industry of Inclusive Playgrounds. Landscape Structures creates playgrounds that are age appropriate, sensory stimulating and universally designed to make environments more usable, safer and healthier for all.
Rescue Ranch's Playground includes:
Sensory Play: Sensory Play Panels;
Tactile: Learning Wall Periscope Reach Panel; Match 3 Panel, Whimsy Riders (Horse, Pig & Cow);
Music: Ring a Bell Play Panel;
Swinging: Oodle Swing; Molded Bucket Seats with Harness; ZipKrooz Double and ZipKrooz assisted with Harness;
Spinning: OmniSpin Spinner;
Sliding: Rollerslide; Sensory Play Roller Table; Odyssey Tower; Gemini SlideWinder2; SlideWinder2;
Social/Imaginative: Custom Play Barn, Sway Fun Glider; Cozy Dome; Table Panel;
Safety, Comfort, Access: Poured-in-Place Safety Surfacing; Double-Wide Ramps; CoolToppers Shade Structures; Tender Tuff Benches;
Climbers: Vertical Ascent; Vertical Ladder, Crest Climber; Loop Ladder; Cascade Climber; Corkscrew Climber, Conical Climber; Pod Climber; Portal Climber; and Star Seeker Climber.
Click here to watch NASCAR'S video on the Earnhardt Family Playground at Rescue Ranch.
Click here to read an article on Foxsports.com on the Earnhardt Family Playground.
Click here to read an article on dalejr.com on the dedication of this playground.
This inclusive playground at Rescue Ranch is seriously impressive-it's one of the largest of its kind in North Carolina.
INCLUSIVE PLAY COMPONENTS
See the complete photo gallery here!
Click here to request more information on Inclusive Playgrounds.