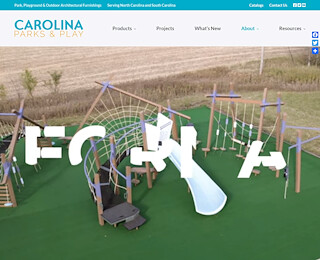 Play equipment
are an important element of any park and recreational area. Schools and even home back yards will also be more kid-friendly with these kinds of installations in place. At Carolina Parks and Play, you get to choose from inspired, artful, safe, and customizable playground implements for your students and children.
Thanks to the regulations and stricter safety inspectors, the number of playground-related injuries has significantly dropped. The US has released a Standardized Document and Training System with the American National Standards and Consumer Product Safety Commission for the regulation of play equipment.
It is essential for playground equipment to be highly secure and made of safe materials. Old playgrounds still feature all-metal equipment, but nowadays, plastic is mainly used. The design of play equipment has also evolved. Some of the injury prevention strategies this day include reducing the overall height of equipment that kids can climb on and installing flexible surfaces around and under.
A playground is more important than you think. According to research, it can seriously help children develop social skills, as well as help parents reduce their stress levels.
According to research, houses that are closer to playgrounds can greatly increase property value. Venues, such as fast-food establishments and restaurants, can also attract more customers, especially families, when they have playgrounds.
With over 100 years of combined experience, Carolina Parks & Play, LLC, has designed and constructed innovative and safe playspaces for Northern and Southern Carolina areas. We have worked with parks and recreation departments to landscape architects, and downtown development groups. If you are interested in putting up a park or playground, fill up our online form here at carolinaparksandplay.com.
Related Posts
Play structures ought to be fun, but they shouldn't compromise safety. If you want highly effective, physically enhancing, fun, and imaginative playground structures and equipment for your school's play area or your own backyard, check out products from the most trusted play equipment and park structure manufacturers and designers in the field here at Carolina Parks and Play.
Get your playground equipment Raleigh NC at Carolina Parks and Play. We represent some of the most trusted playground equipment and park structure manufacturers and designers in the industry, ranging from Landscape Structures to Dumor, ARC, Poligon, Pebbleflex, Skatewave, and many other well-known brands that provide outdoor recreation products and equipment.
Swing sets, slides, tree houses, rope courses, mazes, and monkey bars are just some of the most creative and physically enhancing playground equipment you can add to your park or recreational area. At Carolina Parks and Play, you will find an entire range of playground structures, park equipment, and landscape furnishing to make your park spaces more fun for the little ones.
We welcome your comments!