Smart Play: Cube
NEW 2015 Product! The Smart Play: Cube Ages 2-5 from Landscape Structures!
While this play structure welcomes 2- to 5-year-olds for play, Landscape Structures recognizes that there are huge developmental differences between 2-year-olds and 5-year-olds. That's why the Smart Play: Cube was designed specifically to meet the needs of kids ages 2 to 3.
The Smart Play: Cube's unique look brings a modern feel to your play space. Its compact footprint will fit into tight spaces, and the affordable price makes it fit into projects of all budgets.
With Smart Play: Cube, kids get plenty of developmentally appropriate challenges within 14 interactive play events.
Steel drum: Kids drum to their own beat with this fun new drum panel, encouraging imaginative and creative play.
Nesting Puzzle: Moveable puzzle pieces that nest together to create engagements.
Slotted Puzzle: Puzzle pieces that fit over a tab develop critical thinking skills.
Puzzle Panel: Kids can arrange the puzzle panel pieces to make various designs.
Manipulative Arrow Panel: By rotating and sliding different shapes, kids are rewarded with a ringing bell.
Slide: A kid favourite that develops balance and coordination as well as motor planning skills.
Table Panel: Kids will have fun learn, learn to cooperate and play games and make-believe all while developing social and emotional skills.
Activity Table with Bench: Kids engage in interactive & collaborative play as they take on various activities.
Mirror Panel: Encourages social imaginative play, and allows kids to watch themselves and make funny faces with a friend on the other side!
Magnet Stack: Kids can explore the force of magnetism by bouncing these magnets against each other.
Arch Climber: Kids will develop coordination and learn to climb safely to the top of the play structure.
Ladder Rail Disks: This interactive play activity develops hand-eye coordination.
Steering Wheel: Kids will cruise along and experience the thrill of driving while stimulating their imagination.
Crawl-through Panel: Helps develop kids' visual and spatial processing skills and provides a gateway to the fun.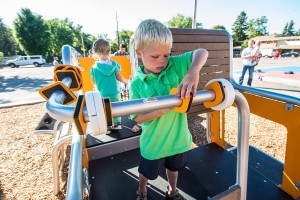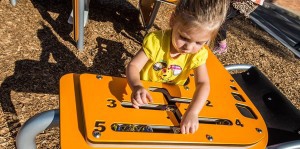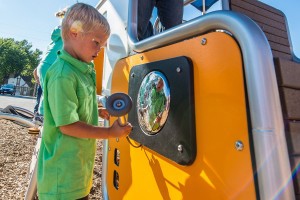 Interested in learning more about the Smart Play: Cube? Read more here!
 Click here to request more information on the Smart Play: Cube