Portal Climber with Permalene® Handholds
Scale this challenging vertical net and discover portal openings through to the other side.  A great way to expand the playscape with a modern net climber.  This model includes traditional Permalene® handholds.
Age Ranges: 5-12 Years

Features

• Connects 64″-72″ PlayBooster® decks
• 3/4 Permalene® handholds to aid in smooth transition from deck to climber
• Cable is polyester-wrapped, six-stranded galvanized steel with a polypropylene core
• Direct bury only
Developmental Benefits
Sensory: Vestibular +, Proprioception, Tactile
Motor Skills: Balance, Coordination, Motor Planning, Agility, Flexibility, Core Body Strength, Upper Body Strength, Lower Body Strength
Cognitive Skills: Problem Solving
Social/Emotional Skills: Cooperation, Social Skill Development, Imaginative Play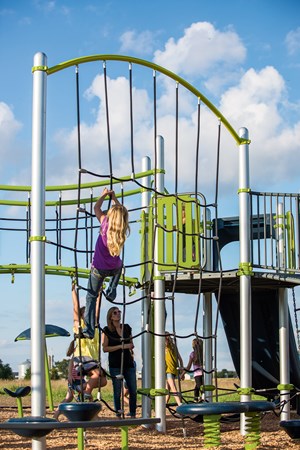 Interesting in learning more about the Portal Climber?  Read more here!
Click here to request more information on the Portal Climber.