Landscape Structures Slides
2017 NEW SLIDES — swift rides and quick turns from higher deck heights!
Double Swoosh Slide® – The fastest ride, times two
50 percent steeper than traditional slides

12″ sidewalls and longer exit area for safety

Attaches to 64″, 72″ and 96″ deck heights

Double scoop integrated hood design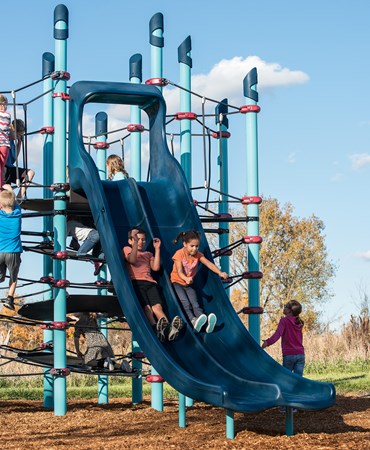 Attaches to 72" deck for 315-degree rotation
Attaches to 96" deck for 360-degree rotation
Twists clockwise only
Integrated slide hood for safety
Easy-glide slide railings to protect kids' hands
72"-high slide includes a transition platform
72"-high slide available in direct bury or surface mount
96"-high slide direct bury onlyA.  WhooshWinder™ Slide – attaches to 72″ or 96″ PlayBooster decks.
B.  10′ Tower WhooshWinder™ Slide – attaches to 120″ deck on 10′ PlayOdyssey Tower.
C.  12′ Tower WhooshWinder™ Slide – attaches to 144″ deck on 12′ PlayOdyssey Tower.
Click here to request more info on new slides for 2017!