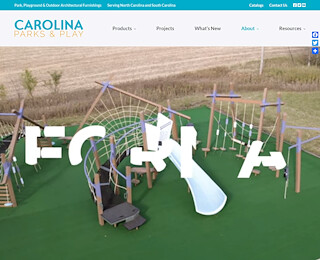 Swing sets, slides, tree houses, rope courses, mazes, and monkey bars are just some of the most creative and physically enhancing playground equipment you can add to your park or recreational area. At Carolina Parks and Play, you will find an entire range of playground structures, park equipment, and landscape furnishing to make your park spaces more fun for the little ones.

Playground equipment should be more than just appealing to kids. They should also be safe for use. According to statistics, more than 200,000 kids in the United States are treated in emergency departments due to playground-related injuries. 
Communities, schools, and even businesses are starting to realize the importance of high quality playground equipment. According to research, parks and playgrounds provide excellent health benefits for young and old alike. Access to parks can increase the frequency of exercise, which can help in fighting obesity and physical inactivity. What's more, it's a known fact that physical activity makes people healthier. Exposure to greenery and nature has the same effect.
On a larger perspective, cities and towns with good playground and park facilities are able to build stronger communities. Having playgrounds frequented by children with their parents can also reduce crime.
Even companies and businesses are now rethinking the use of playground equipment for their establishments. For example, restaurants with playgrounds are visited more frequently by large families. Urban areas that are close to playgrounds are also said to have higher property values—comparable to those that are close to schools and commercial areas.
If you want to get an idea of how to improve your property or establishment, have a look at our online gallery here at carolinaparksandplay.com. Our team has over 100 years of combined experience and we service North Carolina and South Carolina. We can offer innovative and modern solutions for premium quality park furnishings and safe playspaces. Get a complimentary site evaluation. Simply call us at 877-686-9188.
Playground Equipment Carolina
Related Post
Play structures ought to be fun, but they shouldn't compromise safety. If you want highly effective, physically enhancing, fun, and imaginative playground structures and equipment for your school's play area or your own backyard, check out products from the most trusted play equipment and park structure manufacturers and designers in the field here at Carolina Parks and Play.
Play structures are known to boost the development of cognitive, physical, emotional, and social skill of children. They can also help nurture imagination and creativity. But more than that, playgrounds and parks provides has many benefits for cities as a whole. They also positively impact public health, the economy as well as the physical and social environment. Studies show that people residing close to parks have higher levels of physical activity. They tend to use walking trails, playgrounds, and sports facilities.
Park aesthetics is one of the key factors that affect the frequency in which parks are visited and used. The condition and safety of the park are also contributing factors. According to findings, park renovations can significantly increase use of facilities within a park. Play structures need to be appealing to both kids and their parents. They should give an opportunity for recreation while helping create a stronger neighborhood and stable community. Playgrounds and parks can also increase the property value of the immediate vicinity, whether it be a residential or commercial property.
If you are ready for modern and innovative playgrounds and parks, view the gallery here at carolinaparksandplay.com. We showcase products and catalogs and even landscape structure videos. Our team at Carolina Parks and Play LLC has been in the business for years and we have worked with churches, schools, as well as downtown development groups and parks and recreation departments. Call us at 877-686-9188 to know more about our installation services, product recommendations, design services, and complimentary site evaluations.
Get your playground equipment Raleigh NC at Carolina Parks and Play. We represent some of the most trusted playground equipment and park structure manufacturers and designers in the industry, ranging from Landscape Structures to Dumor, ARC, Poligon, Pebbleflex, Skatewave, and many other well-known brands that provide outdoor recreation products and equipment.
More cities and towns are starting to develop playgrounds and parks. These green spaces, no matter how small, have been shown to be beneficial for residents as well as the community in general. High-quality playground equipment Raleigh NC can offer a huge economic impact. In fact, it can increase property values of nearby houses. If your home is within walking distance of a park, you probably have a higher lot value than houses that are a car or bus ride away.
Commercial properties are also investing in playgrounds and even parks. According to research, more customers come to businesses that offer playgrounds. Take fast-food joints that have play areas for kids, for example. More families would rather go there than simple sit-down restaurants. Cities and towns that have notable parks and playgrounds can also draw in tourists. A park can likewise be an avenue for recreation and other events, from music festivals to theatrical shows.
Aside from the economic benefits of playgrounds and parks, there are also key environmental benefits such as pollution abatement, plus social benefits like creating strong communities and stable neighbourhoods. Researches show that renovated or modern playground equipment Raleigh NC is linked to increased physical activity, too.
Carolina Parks and Play LLC can help you create a modern design for playgrounds and parks that are aesthetically pleasing, safe, and innovative. To get an idea about what we can do, check out our online gallery. Send us a message on our inquiry form here at carolinaparksandplay.com to know more about our installation services, site evaluations, product recommendations, and design services.
We welcome your comments!