Oodle® Swing
The Oodle® Swing provides interactive fun for oodles of kids! It's the perfect accent for any new or existing playground – especially play spaces designed with the Evos® play system.
Age Ranges: 5-12 Years
Features

• Comfortably seats four to six children at once
• Frame constructed from 3.5″ ProShield®-finished, galvanized steel arches
• Includes swing frame, swing cables, swing seat and fasteners
• Molded from durable, colorfast polyethylene
• Swing seat contains two rubber-encapsulated bumpers
• Transfer point from wheelchair or walker
• Direct bury only
Developmental Benefits
Sensory: Vestibular +, Proprioception, Tactile
Motor Skills: Balance, Coordination, Motor Planning, Core Body Strength, Lower Body Strength, Upper Body Strength
Cognitive Skills: Problem Solving
Social/Emotional Skills: Cooperation, Social Skill Development, Imaginative Play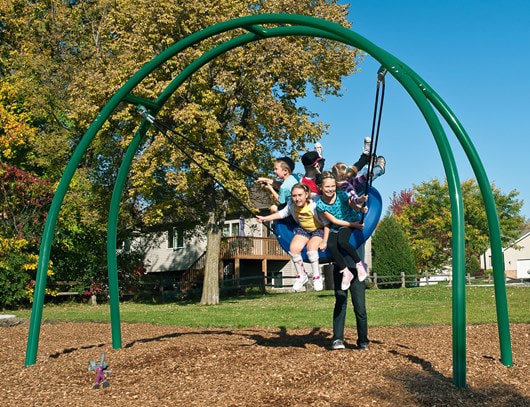 Interested in learning more about the Oodle® Swing? Read more here!
 Click here to request more information on the Oodle® Swing.